Sorry I missed Random Day.
Sorry I missed Teaser Tuesday.
But you see, I've been missing Cutter, my horse, so much that I had no choice but to miss some other things, too.
Yes, Cutter has found a new home. With my schedule, it wasn't fair to keep him here and let him be neglected.
Here are some photos of him on his last day. :)
In the stall, where it was a tad dark:
Stealing hay (of course I let him):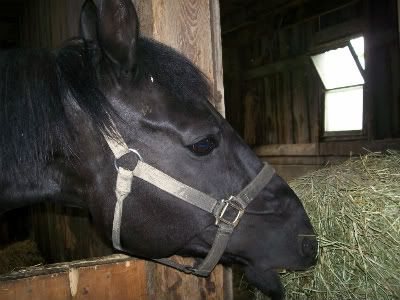 I took him outside to eat the lawn (one of his favorite pasttimes):
And half of Cutter's life has been spent shaking flies away. :D So I needed a pic of that:
Cutter is a stress eater (Like me :D). I imagine he is standing in his new stall right now eating his bedding to calm his nerves. He doesn't like peppermints, like all other horses do, and he doesn't like being brushed all that much either (oh, the times I chased him around the pasture...). He likes carrots more than apples (like me).
Anyways. Goodbye to dear Cutter and I know you will be happy with your new family. .